Are you planning to visit Cortona, Italy? Cortona is a charming town and there are many things to see and do. To help you choose the best options I am happy to share my favorites, the things you should absolutely not miss when visiting the old city of Etruscans. Enjoy!
1. Visit le Celle
I know I'm starting from outside of town, but I want to make this really clear. Many people who come to town only for one day don't even know that such a place exist. Le Celle is a Franciscan Monastery founded by St. Francis of Assisi, where he stopped in 1211 while he was on his pilgrimage through Tuscany. He lived in a cell, still visible today, which is carved in the stone, as it is the whole monastery that was built around it. The little houses rise over a rock wall and a small river crosses the monastery, with lovely gardens on both sides. It's an incredibly serene place, like stepping back in time 800 years. The friars wear brown robes and ropes around their waists like St. Francis and the silence is striking. If you are lucky, you can see the friars working on their gardens, or attending the mass at the small church on top of the hill. Make sure you don't miss a glimpse of this atmosphere, just a few minutes ride outside Cortona!
2. Discover Museo Diocesano (and MAEC as well)
In front of the Cathedral, this museum is not much promoted in town, yet it holds some wonderful art masterpieces not to be missed. Fra Angelico's Annunciation is probably the most important one, astonishing beauty. But at Museo Diocesano you can find more. The unexpected beauty of the old lower church, with frescoed ceiling, is defintely worth a visit.  As it is the hall dedicated to the Renaissance master from Cortona, Luca Signorelli. So many masterpieces in such a small place!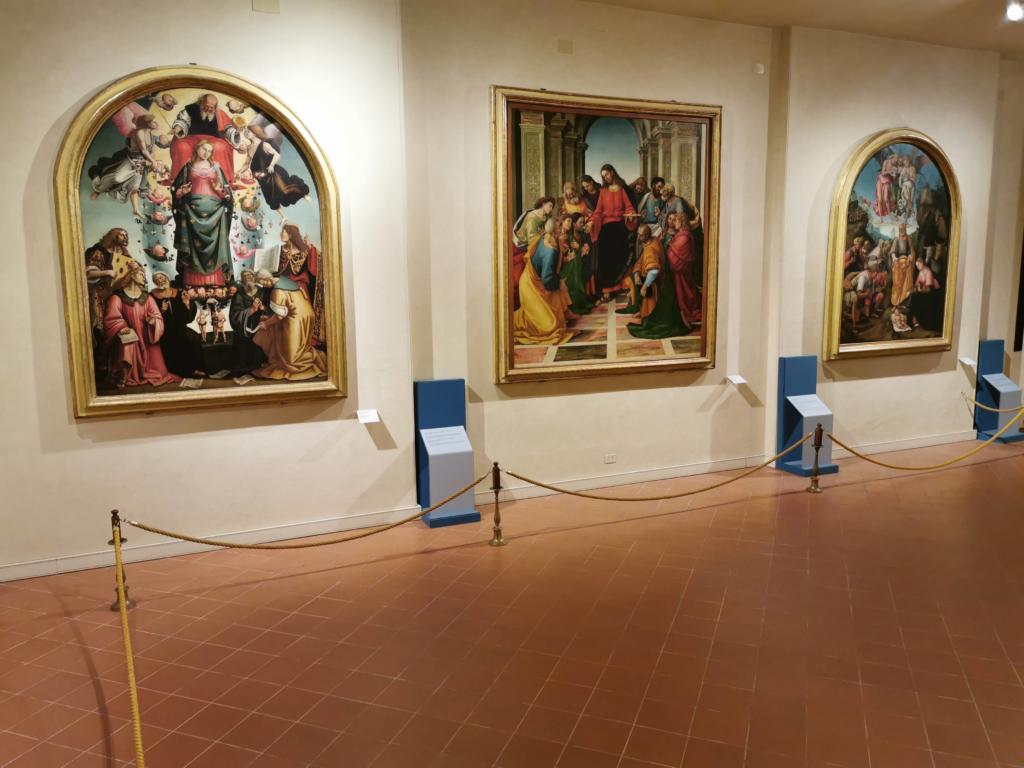 Don't miss the MAEC museum either! It is a surprisingly big and interesting archaeological museum. It is big enough that if you only have one day to visit Cortona maybe the museum visit will be too rushed to be enjoyed. But if you are staying just a little more time you must absolutely consider to go see it! The museum has lots of history, it was founded as a "study academy" in 1727, the Etruscan Academy. At that time, a group of noble men of the town led by Marcello Venuti started a shared collection of ancient pieces, finds and books coming from all over Italy and from their private residencies. This allowed them to grow a "public selection" of collectibles from Medieval times, the Renaissance and even old Egypt that are the heartbeat of the musuem today!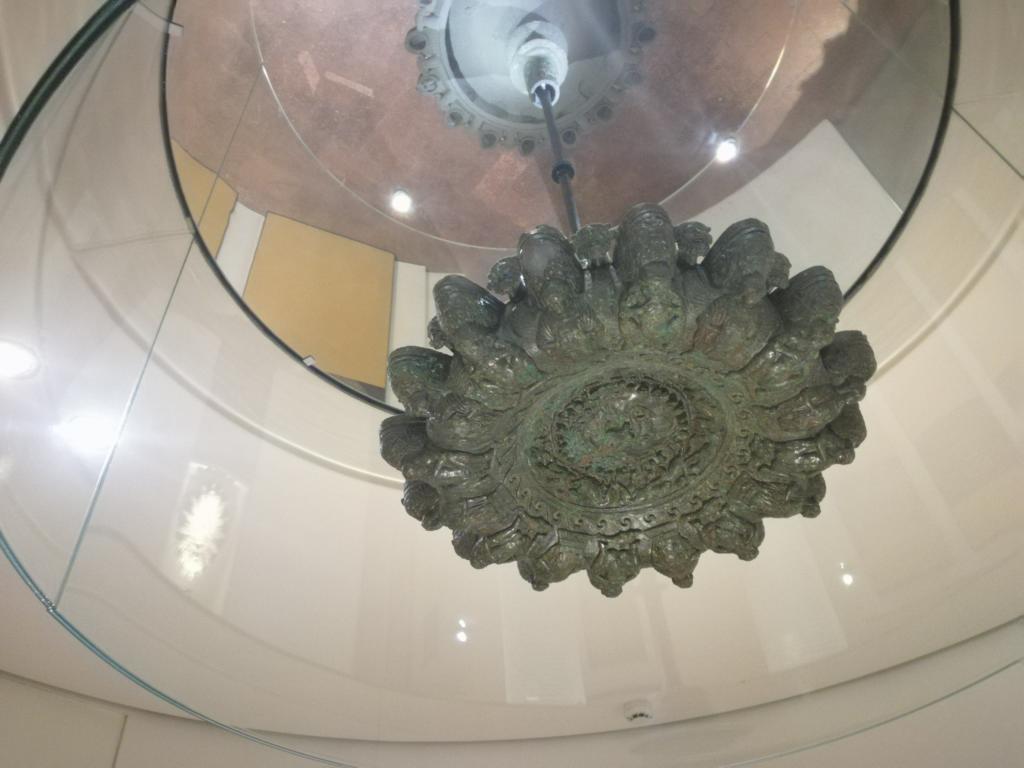 Many years later (at the beginning of 1900) the Etruscan tombs around Cortona started to emerge, and the Academy collected all the Etruscan pieces found in the area. This include very rare pieces from over 2000 years ago, such as the Etruscan bronze lamp, or the bronze "contract" Tabula Cortonensis, and several fine jewelry pieces crafted in real gold. Today, they are all very well displayed in a beautiful, contemporary museum that perfectly blends modernity and history.
3. Enjoy the views from the Fortress, and explore the upper town from there
The fortress stands just on the top of Cortona hill, it's a hidden gem that tourists tend to skip but it offers a unique glimpse of the valley and a breathtaking landscape. The old building is now open all summer long for visits and special events, but the best part is definitely the view, 360 degrees from the lake Trasimeno to the whole Valdichiana.
There is also a nice cafè to have an aperitivo while enjoying an unforgettable sunset with that special views.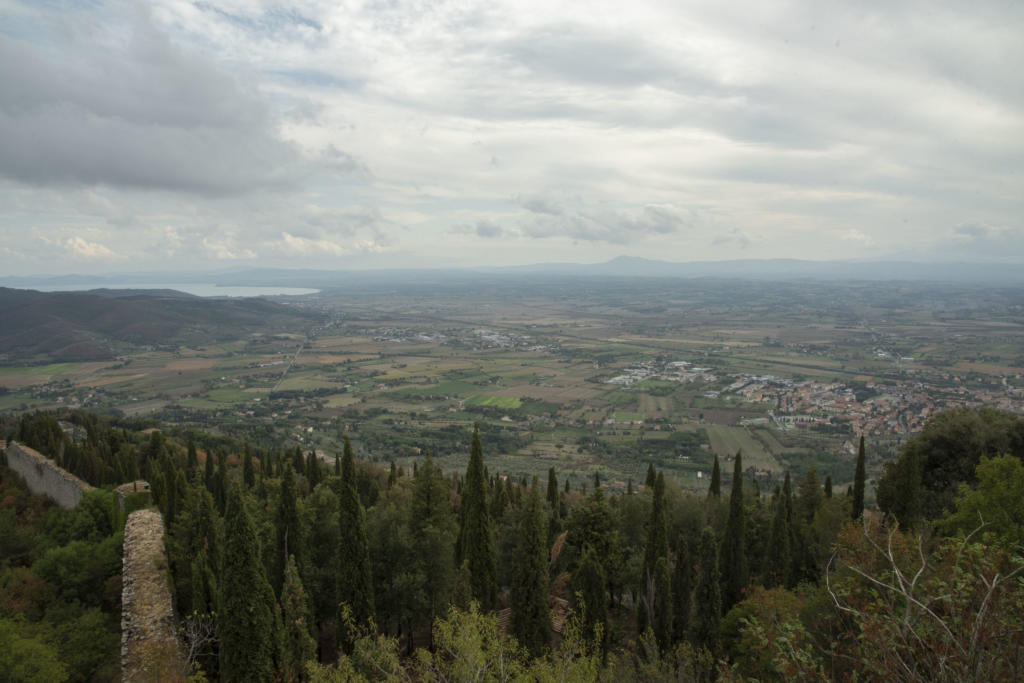 Also, another reason to visit is the fortress' strategic position. Park your car in front of Santa Margherita church. From there you can easily go up to the fortress without much effort. Plus, you can also walk down to see the "Poggio" (the upper residential area) without having to climb all the way up from the town center if you don't like to. Go down to the right following Via Santa Margherita (the paved road with the stations of the cross by Gino Severini) for a panoramic view, or take the opposite path downhill to see Porta Montanina, San Cristoforo and San Niccolò churches.
4. Food and wine, have a break in one of Cortona's restaurants and cafés
As simple as it may seem, eating and drinking is another experience in town not to be missed. Make sure you indulge in an aperitivo, ask for a glass of local wine or a cocktail (have you ever tried the Italian Americano or Aperol Spritz?). Aperitivo time usually starts after 6pm, but it is also popular just before lunch (maybe a chilled prosecco is what you would order on a hot summer day!).
Many cafes offers al fresco tables, with minimum or no additional service charge at all. From Spring to early Autumn there is nothing better to enjoy the town than sitting in the squares or along via Nazionale to watch people and life go by with a glass on your hand. For lunch, chose a cafè or a small bistrot/enoteca for a quick salad, a toast or a tagliere (a selection of cold cuts, cheese and bread). Go to a restaurant for a complete Tuscan food experience, order pasta with meat sauce (any different "ragù" is worth trying!) or chianina, either steaks or different cuts.
Enjoying alfresco dining and Tuscan delicacies is the icing on the cake of any perfect day in Cortona. What is more, if this is not your first visit, the restaurant owners or staff might remember you and really treat you like family!
5. Shopping! Find your gifts and discover local stories
Shopping in Cortona is a true, quality one. Also for locals – I often shop in town when I need to find gifts or nice clothes. In Cortona you can find nice handcraft, clothes and leather accessories, jewelry, art galleries and art supplies, great antiques, wines, fine ceramics and souvenirs.
The shops are mostly located on Via Nazionale, the main street (and the only flat road in town!), and around the main squares, Piazza della Repubblica and Piazza Signorelli. You may find other nice shops on side roads along this route (especially via Guelfa, via Dardano, via Benedetti, cross streets up and down from Via Nazionale) but the shopping area is really pretty much concentrated.
Make sure you dedicate some free time to browse the shops and get to know the shop owners. In some cases, they are quite unique characters! Almost everyone in town speaks good english and tourists are always welcome to browse and ask. There are stories behind every place!
Shop keepers and restaurant owners are Cortona's treasure. They often share their advice and their knowledge on the history of Cortona, they help you, translate for you, and assit you in many ways. Together with the art, the history, the landscape (the first 3 points on my bucket list), shops and food & wine dealers are what makes Cortona really special. To be visited again and again. Don't you agree with me? Seeing is believing!